Whether you're a current or prospective homeowner, recent headlines regarding home values may leave you with more concerns than answers. Home prices are declining in news reports, which raises concerns about a replay of what happened during the 2008 catastrophe.
Home Values Today
For months, economists have projected that the housing market will eventually cool as home values become a victim of their own success. Home prices have risen much faster than wages, producing affordability issues, and mortgage rates have more than doubled since August 2021, before beginning to dip modestly.
Property values, according to experts, may fall.
But not crash.
"Prices will fall in the upper single digits in the majority of markets," Dietz predicts. To be sure, a 9% reduction in property values would have a significant economic impact. This correction, however, will be nothing like the full collapse of property prices during the Great Recession, when values in key home districts fell by half.
ATTOM Data Solutions' senior VP of market intelligence, Rick Sharga, forecasts a 5% reduction. "It's almost unavoidable that home values will collapse," he claims.
According to Yun, the most vulnerable to a price decline are high-priced places such as California. In the Midwest, though, home values are unlikely to plummet. Overall, he expects national prices to remain stable next year.
Based on these developments, one of the questions on many people's minds is: how much will housing prices fall? What you may not realize is that skilled forecasters do not predict a price drop.
In fact, based on the most recent data, there's a case to be made that the majority of month-over-month price depreciation is already behind us – and even those figures weren't statistically significant on a national scale.
Rather than speculating on how far they may fall, the question should be: have property values reached rock bottom?
Let's take a look at the most recent industry statistics (see chart below):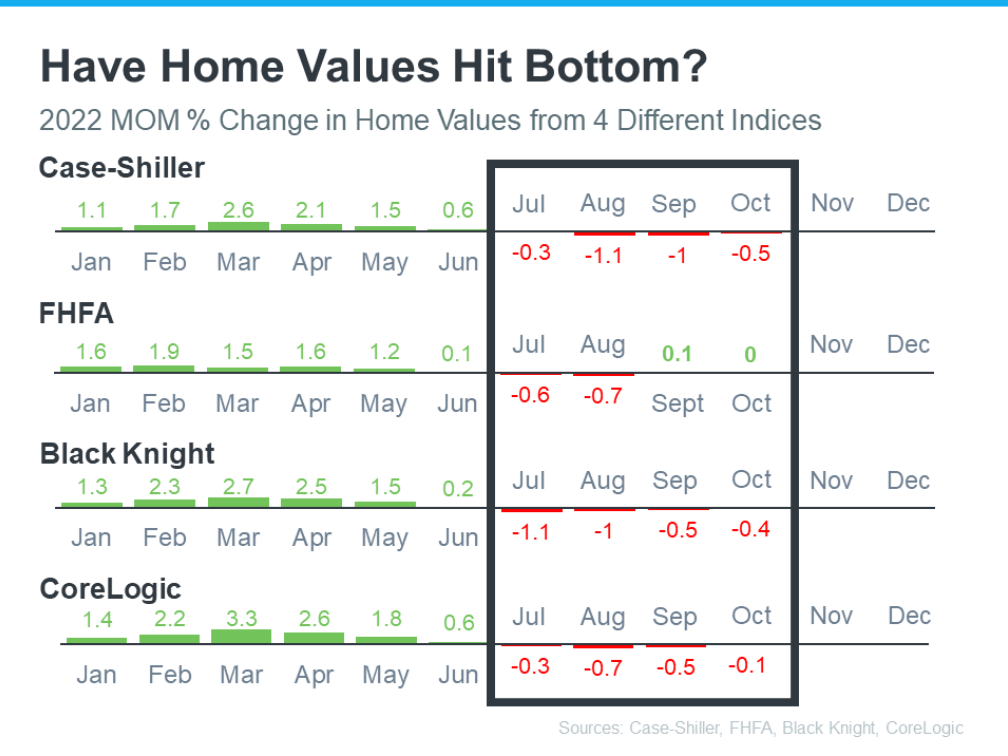 The graph above represents the most recent Case-Shiller, FHFA, Black Knight, and CoreLogic reports. It displays how home values have changed on a national scale month after month beginning in January 2022.
November and December figures are yet to be revealed.
Let us focus on what the red figures represent. The red figures show the published change in property values over the last four months.
When we isolate the most recent four months, the data shows that the fall in property prices peaked in August in each case.
While this does not guarantee that the decline in housing prices has halted, it does demonstrate that prices are not in free fall, and it may be an early indication that the worst is over. This national pattern will be evaluated further once data for November and December are released.
Is there a market surge?
The National Association of Home Builders' home affordability index began this year at its lowest level since the data was first monitored a decade ago. Lower interest rates, on the other hand, are changing that.
According to a recent Black Knight estimate, if home values continue to fall at the rate recorded over the last six months, yearly home price growth may turn negative over the next three months. The monthly mortgage payment on the average-priced property with a 20% down 30-year rate mortgage is currently around $600 (+41%) higher than it was last year at this time.
Mortgage applications for house purchases grew throughout January and the first week of February but remain lower than the same period a year ago when interest rates were about half what they are now.
"Based on lower rates and slightly lower property prices, we can see obvious evidence of a January surge in purchase loans," said Ben Graboske, president of Black Knight Data and Analytics. "However, affordability continues to retain sway over a sizable percentage of the market."
Take Away
Home values month-over-month have depreciated for the past four months on record, but there's a strong case to be made that the worst may be behind us. If you have questions about what's happening with home prices in our local market, the best real estate agent in San Mateo CA is glad to be of help. Book your appointment now and enjoy a hassle-free real estate transaction.