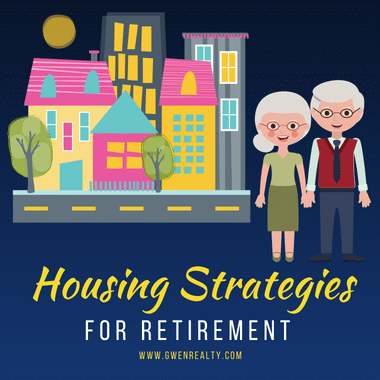 Retirement is real for Baby Boomers. Arming yourself with the right knowledge can save you thousands of dollars and years of inconvenience. The term "Baby Boomer" was coined when journalists first noticed a significant increase in birthrate after World War 2.  You are a baby boomer if you were born between
1946 and 1964.
Around 76 million babies were born during this period and most of them have now reached retirement age.
Here are big questions that baby boomers face:
What to do with your long time home?
What lifestyle and strategies to embrace?
Best places to retire?
The following items would help you answer the questions above:
Housing Strategies for Retiring Baby Boomers:
1. Downsize Home

Downsizing can be difficult but it still pays. Your house can pay for your retirement. But here are things to consider first:
How is your savings and investments? Emergency funds? Pension plans?
How is your health? What will be your potential medical expenses?
Are you willing to relocate to compensate your income?
Do you know experts that can help you make good decisions?
If you have invested in a large home, you are most likely done raising your children with it
.
You may find that your home is now
more difficult to maintain
as retirement approaches. With the right guidance, Baby Boomers are able to pay the downpayment in cash and can move to their retirement home within a short processing time. You can use proceeds from your home sale (known as
home equity
) to supplement retirement income.
Sell your home at a top dollar deal. 
 It's your hard-earned money in the first place and you must get a just price for it. Having an experienced realtor equipped and experienced in real estate can help you make the right 
home value pricing, 
home improvements, and crucial decisions. A good realtor's aim is for you to earn more and live more.
Buy a home fit for your needs.
If you are considering to make the transition, it is important to find a home that is just right to fit your needs. Having a house that is too big or too small can put you in a more difficult retirement situation.
Contacting an experienced REALTOR/ GUIDE is worth the investment.
Finding a professional can help you set realistic goals and smart decisions. If you want to proceed with selling your home, your REALTOR must find
a good balance
between the cost of your new retirement home and the proceeds from your home equity which will be turned to emergency savings, savings for medical costs and day-to-day operations. You can
tap from your home proceeds
to increase your cash reserve, start a business or may do well to supplement your income. But again, you must consider if your home has the features to 'fit' your needs. Is your long-term home still sustainable? Does your energy and resources match your property needs?
As an experienced professional in the real estate field, I can help you see the big picture and long-term benefits, the pros and cons, the balanced ratio and not just spur-of-the-moment allurements.
2. Factors for Your Retirement Location

Majority of Baby Boomers are now moving to less expensive areas where they can have a restful space and be closer to their families and grand children. Examine the characteristics of your neighbourhood if they usher a happy and a healthy lifestyle, as well as financial factors like tax compensations, seniority benefits
Here are factors to consider in a retirement city:
The Retirement Index is still one of the most comprehensive tool to use to help you determine the best destination for you. To determine what's best for you, together with an experienced guide, you have to weigh in multiple factors.
Finance
Old-age dependency ratio
is a factor that must be considered. The higher the older dependents in a society, the more pressure and threat to the younger generation to pay for the care of the elderly.
Inflation,
for example, is a big threat to you as a retiree. A retirement city with a high inflation rate will reduce your purchasing power over a period of time. Your savings and pension will run out of sufficiency before you know it.
Healthy community.
Most Baby Boomers prefer retirement homes that are near amenities with relaxation features. With health challenges that comes with age, it is important that your new retirement home must be near health institutions, parks, playgrounds, private or public gym and wellness communities. This will allow you to avoid stress-induced illness and maintain a mind and body of rest.
Interest Rates.
Places with higher interest rates will yield higher dividends and payouts to investors, especially the retirees who will put a significant amount of income to their chosen instruments and allow it to grow in a short to medium term for future needs.
Tax Rates.
Higher levels of tax rates mean that retirees will have lower levels of disposable income, and will thus affect their situation. It is important to consider tax rates since some areas will have higher rates but with higher social benefits.
Quality of Life
Can happiness be measured? Nevertheless, the higher the satisfaction and fulfilment in a society, the greater are its positive effects to the population in general.
World Happiness Report
is a standard index that surveys societies from a scale of one to ten.
Natural Environment.
When pollution levels are low and natural resources are in good shape, the population benefits by enjoying increased enjoyment in nature, healthy families and dependents and less burdens on medical expenses. A place's environment index includes sanitation, the quality of drinking water and the infrastructures that were invested to give benefits to people. A city or country must also protect its natural habitats and ecosystems that will benefit its citizens and children. Air quality is also a primary factor to consider.
3. Suitability as You Age

Will the location and design of your retirement home be suitable as you age? Will there be enough or too much rooms? How about facilities that could be a future need? Are there potential hazards or areas that pose risk to you or your loved one? Depending on your answers above, the REALTOR and architect must be prudent to help you assess, identify and mitigate safety threats. The architect shall help you add determine whether to add structure improvements or build anew down from the scratch. Here are aging-related factors for you to consider:
Your space use in the home
Your aging body
Your companions- child, nurse, aide, etc.
Health issues
Energy use in the home
4. Call an Expert

Getting help from an
experienced and well-rated professional
could save you time, wrong decisions and money. A professional can help you make the most out of your home sale so you can stash in more resources to meet your retirement needs. The professional who knows his or her trade very well will work hard in giving you the ways for you to enjoy your property proceeds. The professional should give you insights with:
Suggesting improvements to make the most our of your home sale.
Connect you with a network of professionals who can help you with your decisions.
5. Questions to Ask Yourself:

How are your savings and investments? Are they sufficient for your non-income years?
Will your current home be suitable as you age?
Do you like your long-time home's location? How about your prospected retirement location?
Is moving to a new 'retirement- friendly' location a considerable option?
Will your pension suffice your needs from retirement to a certain projected life span?
How much is needed so you can maintain your life needs?
How much is your long-time home's worth? Know its value through my calculator.
How much is your downsized prospect home worth? See if you can calculate it here.
Will the price difference (home equity) be a good figure to help you with your income? Sustain your needs and build your emergency savings?
Selling your home? I can help you make the most of the deal! Simply click: [maxbutton id="1″]
Gwen Chua Intero Real Estate Services 650-255-1511 gchua@intero.com
Gwen is a seasoned agent in real estate business specialising in Foster City, Redwood, San Mateo, Millbrae & South San Francisco properties. He attends continuing education classes with the San Francisco Chapter of the California Society of Tax Consultants on a monthly basis. Accountants, CPAs, and EAs attend these meetings and provide a wealth of information and experience.
About Intero Real Estate Services 
Intero Real Estate Services, Inc., a Berkshire Hathaway affiliate and wholly owned subsidiary of HomeServices of America Inc., serves Northern California with 13 offices throughout the greater Silicon Valley. The Intero Franchise network is comprised of nearly 50 affiliates located in Alabama, Arizona, California, Colorado, Nevada, Tennessee and Texas. The company is headquartered in California's Silicon Valley.
About California Society of Tax Consultants
The California Society of Tax Consultants, Inc. (CSTC) has been a nonprofit organization for the benefit of tax professionals throughout California since 1966. Programs cover a wide spectrum of tax topics that are approved for CTEC, EA & CPA credit.